HCM Orthocare being a leading manufacturer and supplier of orthopedic implants supplies wires, pins and fixation that are fabricated using excellent quality raw materials. Our products are widely appreciated by our clients for precise design. Which we have achieved using hi tech machineries. Reason why wires, pins and fixators are requires is a broken bone must be stabilized and supported carefully until it is strong enough to handle body weight and movement. Wires are often used to pin the bones back together that are too small to fix with screws. Fixators are of two types Internal and External. Internal fixation enables patients to return to function earlier and reduces the incidence of nonunion and malunion of broken bones. External fixators are used as a temporary treatment for fractures, because they are easily applied and fixed externally.
Different types of Wires, Pins and Fixators HCM Orthocare manufactures are as under –
We present to our valuable customer that tube to tube clamp which are designed with excellence that doctors find it very easy to use in critical surgeries. We use top quality material and design products with precision that had made HCM Orthocare a leading manufacturer in orthopedic field. We provide cost effective implants which are of top notch quality and easy to use for surgones. Our products are recommended by surgeons world wide as we provide products which matches international standard. Our range of tube to tube clamp is used in treatment of tibia and femur, used to control bleeding.
HCM Orthocare is manufacturer and supplier of open clamps which are designed under the guidance of top surgeons and all critical features are taken care. We guarantee our customers the authenticity of our products, as we use top quality raw material so there are no complaints from the surgeons and along with this our products are appreciated by surgeons all over. Providing customers the product they desire and even customizing it as per the requirement we have become a well known brand. Open clamps are used in tibia and femur treatment.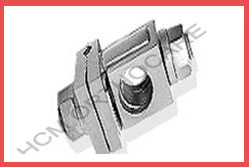 Transverse Clamps are tubular External Fixator. We manufacture this clamp using advance technology at our own premises. Premium quality material is used in designing and making. The Transverse T- Clamp made by us are not just of international quality but even the materials are selected following the international standards. So no problem arises at the time of surgery because of our instrument, we know value of life of our valuable customers and even provide these product at a cost effective rate so no one has to compromise and can use high quality instruments. We have become a leading company by serving our customers the best and even providing customized products as per requirement.
External Fixator are used in stabilizing the frame to hold the broken von in proper position. As the name suggests External Fixators are uses in external part of the body and are removed once the bone has regained its strength. External fixators are used as a temporary treatment for fractures, because they are easily applied and fixed externally. The pins and screws are attached to the bar outside the skin. Our offered products are trusted by leading healthcare professionals and medical institutes. Moreover, our line of products features innovation in its design and manufactured that our end goal is client satisfaction is achieved. Using hi tech CNC machines that help us provide proper design with accuracy.
 Steinmann Pin is a thin metal rod commonly used in orthopedic procedures for holding large bone fractures together. These pins are similarly to K-Wire, but are larger in diameter. Steinmann pin has a trocar tip. The raw materials used in manufacturing of these pins are Stainless Steel and Titanium, the raw material is selected keeping international standard in mind. These pins are available in diameter of 3mm-5mm and length 125mm-300mm. we provide you products that are sterile or non sterile as per your requirement. We manufacture Steinmann pins of following types – steinmaan pin with trocar tip, steinmaan pin with middle thread and trocar tip and steinmaan pin with drill tip.
HCM Orthocare is India's leading orthopedic Implant and Instrument Manufacturer, Wholesaler and Supplier, company based at Ahmedabad, Gujarat. We provide wide ranges of implant. We keep on updating our knowledge and technical strength to provide premium quality products in Orthopedic Implants. S.S. road i.e. Stainless Steel rod that we manufacture include – 5.5mm rod, 3.5mm rod, 5.5mm Curved Rod and Tapered Rod 5.5mm/3.5mm. We use best quality raw material which satisfies International Standards for comfort of our clients, by which we are appreciated in market for our products. S.S. Roads are used in many surgeries specially as External Fixator.
Our team of experts engaged in manufacturing a comprehensive range of Schanz Screws, one of the finest qualities of Schanz Screws available in the market. The product we offer is fabricated from superior quality of raw material ensuring comfortable, precision and durability. Our product is highly recommended by world class doctors and surgeons. The ranges of product are available with us are at reasonable prices. The Schanz screw is very similar to Steinman pin with threaded tip. It is used in fixation. Schanz Screw with self tapping are available in diameter 4.0mm,4.5mm,5.0mm and 6.0mm, in length 60mm to 250mm. We provide sterile products in both Stainless Steel and Titanium, which is selected keeping international standards in mind.
K – Wires or Kirscher Wires are sharp ended, smooth Stainless Steel pins. K – Wires are widely used in orthopedic and veterinary surgery. These wires come in different sizes and are used to hold bone fragments together or in providing anchor to the skeletal traction. We manufacture K – Wires with trocar point on each end of a small diameter smooth pin. The length varies from 5inches to 9inches and diameter from 0.9mm to 1.6mm. HCM Orthocare is an orthopedic implant manufacturer and supplier providing premium quality orthopedic Implants that are manufactured using high quality raw material which matches international standards. We manufacture best quality orthopedic implants. Products are durable, made with accurate dimentions, optimum finish and with minimum maintenance.