We are leading manufacturer and supplier of Spinal Implants. Our brand name HCM Orthocare products are highly well-known in the field of orthopedic implants manufacture. Our range includes such as Spinal Impalnts, Orthopedic Implants,Trauma Implant, Spine Implant, Neuro Implant, Arthroscopy Implant, Orthopedic implant OEM Contractor, etc. Most of the spinal conditions do not require any surgery only in severe conditions the spinal implant surgery is necessary. Spinal Implant systems utilizing specially designed spinal instrumentation are often utilized in these surgical procedures. Conditions are more often require instrumented fusion surgery that includes slippage of the spine, chronic degenerative disc disease, traumatic fracture, and other forms of spinal instability including scoliosis.
Spinal Implants surgery is done to reduce the friction, correct deformities and stabilize the spine. We manufacture customized products as per the necessities of the clients. We are presenting the spinal implants with high quality products which are durable and highly sterile for ease of surgeons during surgeries and comfort of our clients.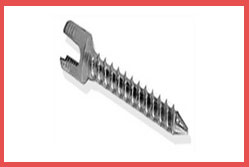 We are one of the prominent manufacturers of supreme range of Orthopedic Implants, including bone screws that are extensively used for the purpose of Bone fixation procedures. These manufactured Bone screw is used in surgical operations that are often made of titanium. These screws are removed after a while or replaced by new ones. The primary function of a bone screw is to create compression in bones while mending a bone injury. Attaching the implants to bones or to anchor or in fixation of soft tissue the manufactured screws are used in orthopedic implants.
The structure of an orthopedic screw includes head, length, diameter, pitch and tip. We supply a wide range and sizes of Bone Screws that includes Cannulated Screws -short thread, Cancellous Screws – short thread, Cortical Screws, Cannulated Screws – full thread, Cancellous Screws – full thread with and without self tapping, Malleolar Screws, D.H Screws,Trauma Bone Screw, Pedicle Screw System, Lumber Screw System, Cervical Screw , Cervical Cage with Screws, Posterior Cervical Screw, Interlocking Screws, P.F.N Screws and many more.
We are foremost manufacturer and supplier of orthopedic Wires, Pins & Fixator that is used in broken bone, to make it being a living tissue to have a tendency for healing. These orthopedic implants are used to withhold the right position of the broken bone. Nails, wires, pins, staples are other types of orthopedic implants that are used to hold the broken bone and fix it in the correct and appropriate position.
They are often used to hold together pieces of bone that are too small to be fixed with screws. In many cases, they are used in conjunction with other forms of internal fixation, but they can be used alone to treat fractures of small bones, such as those found in the hand or foot. Wires are usually removed after a certain amount of time, but may be left in permanently for some fractures. We supply wide range of Wires, Pins and Fixators which includes Traumatic Wire & Pins, Ilizarov Ring Fixator, Steinmann Pin, Denham Pin, Enders Nail, Steinman Pin, Washer, K-Wires, etc are of high quality and appreciated in market.
Enriched by our vast industrial experience in this domain, we are involved in manufacturing and supplying the brand named HCM Orthocare Special Locking Plates products. Our range includes such as Special Locking Plates, Bone Plates, Trauma Bone Plate, Cervical Plate, Anterior Cervical Plate, Cervical Spine Plate, Cervical Cage with Plate, Locking Plate, DHS and DCS Plate, Reconstruction Plate and many more. The manufactured special locking plates are a form of internal fixation that is used in surgeries to hold fractures in place and allow it to heal at correct place. Our manufactured special locking plates are fracture fixation surgical tool with threaded screw holes, which permit's screws to thread to the plate and function as a fixed angle device.
The products are developed under guidance of experts to provide our customer international quality products. These Locking Plates are highly acclaimed across the market for precision, durability and highly sterile to meet the specified needs of our clients, along with this we offer customized products as per need.
Our range of products comprise of premium quality Orthopedic Bone Plates that are manufactured in compliance with industrial standards of quality using highly qualitative raw materials. These bone plates are a thin metal implant used to immobilize bone segments. The bone plate is affixed with screws to properly align the bone and aid in the healing process.
The stiffness of bone plate is important to strengthen the bone provide shield till the bone heals and regains its strength. Materials like Titanium and Stainless Steel are used so required strength is provided and there is no reaction in body. Along with this we provide product customization as per requirement. We manufacture well designed plates with high quality of material for comfort of our clients. The range of our product includes Bone Plates, Trauma Bone Plates, Cervical Plate, Cervical Spine Plate, Cervical Cage with Plate, Locking Plate, DHS and DCS Plate, Reconstruction Plate L.C.D.C. Plate, Semi Tubular Plate, T- Oblique, T- Radius, Compression Plates, Narrow Compression Plate, T plate and many more in various sizes.
With our years of experience & in-depth knowledge in this field, we are engaged in offering a quality-assured array of Intramedullary Nails. The use of intramedullary nails has become the standard for many fracture types due to its advantages. We at HCM Orthocare are dedicated for providing the products to improve the current treatments in orthopedic trauma surgery. Intramedullary Nails which are also known as Intramedullary Rod or Inter Locking Nail that is used to treat fractures of long bones of body. It is called Intramedullary Nail because a metal rod is forced into the medullary cavity of a bone to fix fractures.
An Intramedullary Nail functions as a form of internal splint which stabilizes long bone fracture to minimize the damage of soft tissues surrounding the fracture. There are many types of nails available for surgery when long bones get fractured. Our products are manufactured precisely with the help of guidance of professionals. Providing our clients with customized products in Titanium as well as in Stainless Steel for there convenience. Our range includes such as Intramedullary Nail, Humeral Intramedullary Nail, Radius Intramedullary Nail, Femoral Interlocking Nail, Trochantric Femoral Nail, Proximal Femoral Nail, Syrus Femur Nail, Titanium Elastic Nail, Universal Tibial Nail with dynamic locking, Universal Femoral Nail with dynamic locking, Upper Bend Tibial Nail, Recon Nail, Femur Interlocking Nail etc.
The offered assortment is done by our skilled team of professionals in compliance with the international quality standards using the finest grade raw material and sophisticated technology. Due to our advanced machines used in the manufacturing process. Apart from this, our offered products are highly appreciated by clients for their elevated durability, dimensional accuracy, optimum finish, minimum maintenance, hassle free functionality and robust construction. The offered range is available in various sizes, patterns, designs and dimensions as per the variegated requirements of our prestigious clients.