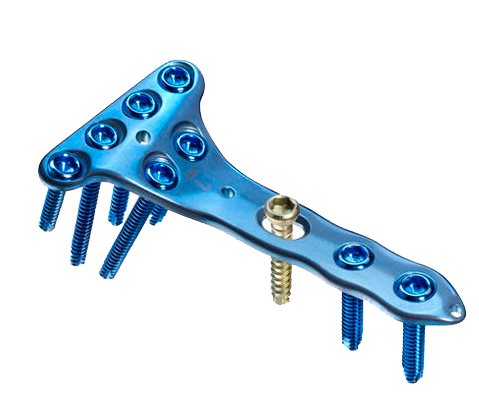 Bone Plates
Bone Screw Plates
Bone Plates Manufacturer
Orthopedic Implants
Bone Plates India
Our Bone Plates Products
HCM Orthocare leading Manufacturer, Exporter and Supplier of Bone Plates, Bone Screws, Spinal Implant, Special loking Plates, Wire, Pins & Fixator all types of Orthopedic Implant, Orthopedic Clamps in India and Domestic Market.
Bone Plates
Considering entire requirement of our health care product, we have developed highly reliable series of bone plates that are preferably recommend by most orthopedic specialists. Our bone plate range comprises T plates 3.5 mm, conventional plates, reconstruction plates, dynamic hip plates, condylar plates 95 degree, limited contact compression plates and so many other kinds of bone plates with highly precise fabrication.
Bone Screw Plates
Knowledge depth of fabrication and also about perfect need of clients, we have put forward high quality bone screws available with great range of configurations. Our range includes like cannulated and cancellous screws of 4.0 mm short thread and full thread. It also includes cortical screws of 4.5 mm and cancellous screws of 6.5 mm thread length.
Special loking Plates
Being very precise, we have developed finest quality range of special locking plates. We offer cortex screw 3.5 mm with locking head, LCLCP 4.5 mm narrow with locking system, L butteress plate 4.5 mm left leg with locking system and cortex screw dia. 4.5 mm with locking head. They are made from stainless steel. These plates are also available with titanium with 4 to 12 holes with 1 hole variations.
Orthopedic Implants
After surveying latest marketing need of the orthopedic implant, we have designed single lock poly axial screw, pediatric mono sacral screw, single lock mono sacral screw and other implants with varied configurations. Being ISOQAR to ISO 9001:2008 approved company, we have designed and offer large and directionally perfect range of orthopedic implants with cost-effective price.
Special Locking Plates
We are tagged as one of the biggest manufacturer and supplier of orthopedic implants and instruments. Special locking plates are designed with international standard with finest grade material. Our proximal humerous plate with locking system(LP-HP) is available with varied hole like 5,8 and 11 holes. We have particularly developed economic range of special liking plates.
We export business in Bone Plates
Bone screw plates, orthopedic Implants, orthopedic clamps and special locking plates exporter in india and international market an domestic market.